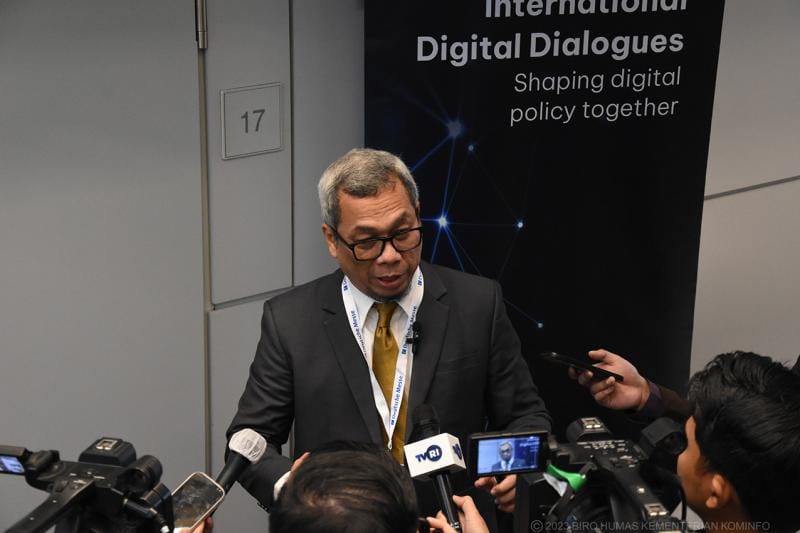 Demi mempercepat laju transformasi digital, Indonesia melakukan kerja sama dengan pemerintah Jerman melalui Kemenkominfo dan Bundesministerium fur Digitales und Verkehr pada tanggal 19 April 2023.
Pertemuan ini bertajuk 1st Indonesian-German Digital Dialogues (IGDD). Delegasi dari Indonesia adalah Direktur Jenderal Informasi dan Komunikasi Publik Kemenkominfo, Usman Kansong.
Delegasi Jerman diwakilkan oleh Benjamin Brake, Director General Digital and Data Policy of the German Federal Ministry for Digital and Transport (BMDV).
Bentuk dari perumusan Peta Jalan Indonesia Digital 2021-2024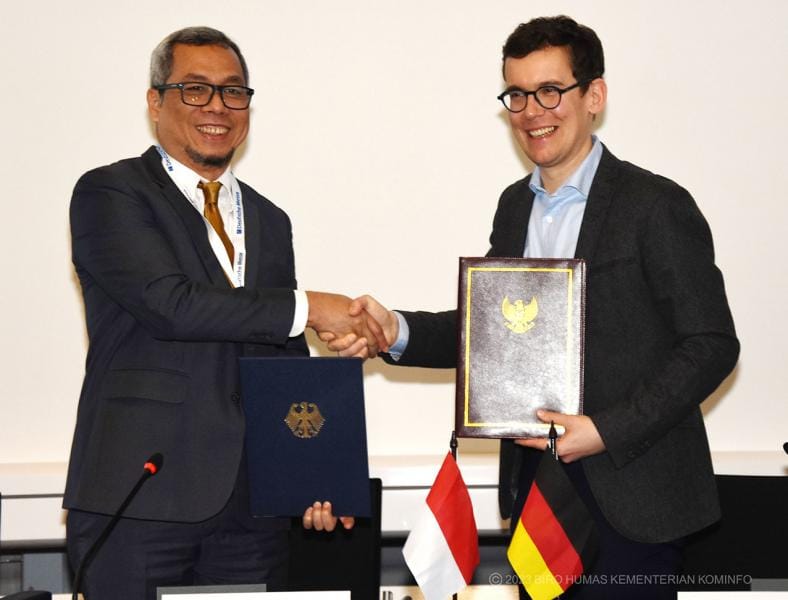 Usman Kansong menjelaskan sejak 2021 pemerintah Indonesia melakukan percepatan transformasi digital melalui rumusan Peta Jalan Indonesia Digital 2021-2024.
"Peta jalan ini merupakan panduan strategis pemerintah Indonesia dalam melakukan transformasi digital. Terdapat empat pilar yang terdiri dari infrastruktur digital, pemerintah digital, ekonomi digital, dan masyarakat digital" Ujar Usman
Untuk mengimplementasikannya, membutuhkan persiapan di berbagai lini. Mula-mula dari keamanan data, kesiapan teknologi, kemampuan dan literasi digital masyarakat, peraturan dan kebijakan, hingga upaya kerja sama dengan berbagai pihak.
Keberhasilan ini perlu melibatkan para pemangku kebijakan, pelaku industry, startup, dan usaha kecil menengah.
Kerja sama antara pemerintah dengan sektor swasta dapat mempercepat transformasi digital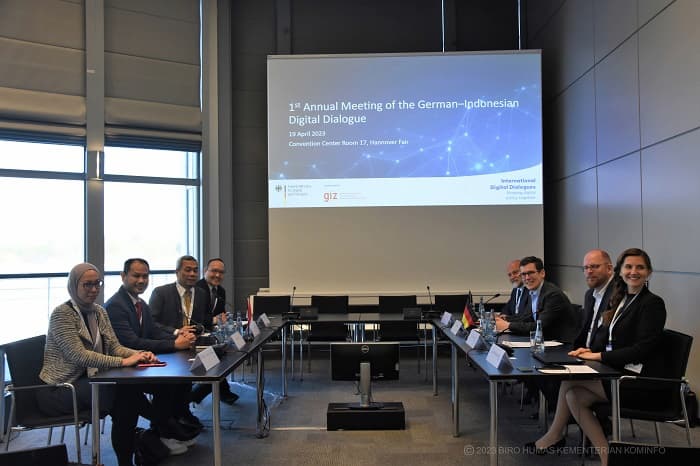 Pemerintah dapat melakukan percepatan transformasi digital apabila mampu bekerja sama dengan pihak swasta yang dapat melalui kerja sama Indonesia-Jerman. Berbagai kegiatan yang dapat dipertimbangkan antara lain berbagi informasi dan strategi platform dan membuat program potensial.
Deklarasi bentuk kerja sama di bidang transformasi digital terjadi dalam Joint Declaration of Intent (JDoI). Perjanjian ini ditandatangani oleh pemerintah Indonesia dan Jerman.
Bentuk kerjasama yang terjalin adalah
digital policy and strategy
data policies
internet governance processes and policies
digital technologies
sustainable digital transformation
digital inclusion.
Bentuk implementasi dari JDoI adalah kedua pihak menyepakati work plan yang berisi agenda tahunan dalam bentuk digital dialogue.
Pertemuan pertama IDGG Indonesia-Jerman
Pertemuan pertama IDGG mengangkat topik Objective and Priorities of the Indonesian-German Digital Dialogue.
Isi pertemuan tersebut menjabarkan tiga prioritas yaitu Digital Policies and Strategy, Digital Emerging Technologies, dan Digital Business Opportunities and Models.
Harapan dari kerja sama ini menjadi wadah untuk berbagai pengalaman untuk menghadapi tantangan para pelaku usaha dalam bidang transformasi digital. Dengan demikian dapat meningkatkan kompetensi dalam persaingan global di bidang teknologi.
Mampu meningkatkan literasi masyarakat seiring perkembangan transformasi digital. Perkembangan teknologi tetap berpusat pada manusia.
"Dengan menumbuhkan pemahaman strategi digital negara masing-masing, kita dapat belajar bagaimana menerapkan transformasi digital untuk masa depan yang kolaboratif dan inklusif" Ujar Usman
Pembahasan terkait percepatan transformasi digital dari Anda temukan dalam DTI-CX 2023 pada tanggal 26-27 July 2023. Kunjungi digitaltransformation.co.id untuk informasi lebih lanjut.