Konferensi dan expo transformasi digital pertama di Indonesia, Digital Transformation Indonesia Conference & Expo (DTI-CX) telah berlangsung pada 3-4 Agustus 2022 di JCC Senayan, Jakarta. Acara ini dibuka oleh Menteri Komunikasi dan Informatika Indonesia, Johnny Gerard Plate, yang diwakilkan oleh Staf Ahli Kominfo, Prof. Dr. Widodo Muktiyo.
Upaya mendukung percepatan transformasi digital Indonesia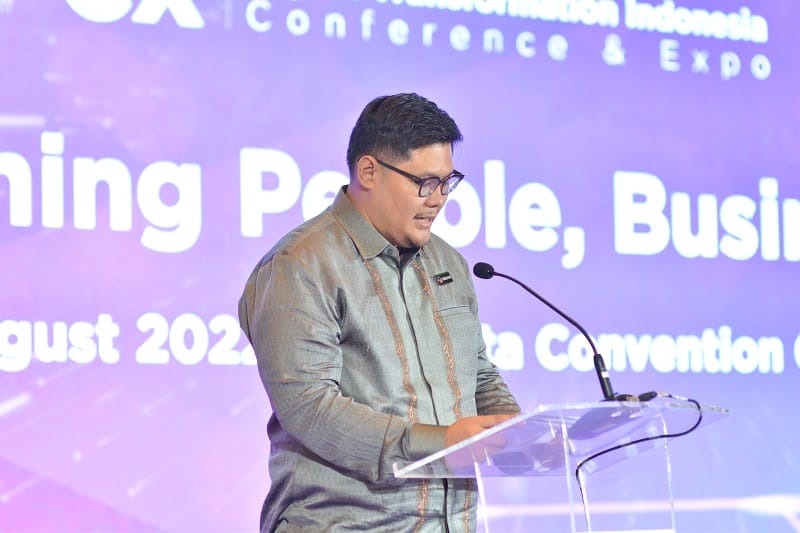 "DTI-CX hadir sebagai salah satu upaya menjalani cetak biru Pemerintah Indonesia yang telah menyusun Digital Indonesia Roadmap 2021-2024 sebagai panduan strategis untuk mengiring proses transformasi digital bangsa," jelas Toerangga Putra, President Director PT Adhouse Clarion Events (PT ACE), dalam pidato pembukaanya.
Hal ini diperkuat dengan data dari Katadata Insight Center yang menemukan bahwa 87,6% responden yang terdiri dari institusi pemerintahan, Badan Usaha Milik Negara (BUMN), dan perusahaan-perusahaan yang khususnya bergerak di bidang telekomunikasi, layanan finansial, kesehatan, manufaktur, serta utilitas dan infrastruktur telah bersedia untuk mengadopsi transformasi digital.
Oleh sebab itu, konferensi dan expo DTI-CX adalah hasil konkret dari inisiatif PT ACE untuk mempertemukan institusi pemerintah, BUMN, serta pelaku usaha untuk mendiskusikan solusi, kebijakan dan teknologi terbaru dalam mempercepat transformasi digital di Indonesia.
Selain mendukung agenda percepatan transformasi digital di Indonesia, penyelenggaraan DTI-CX juga sebagai bagian dari rangkaian acara Peringatan Hari Bhakti Pos dan Telekomunikasi ke-77.
Baca Juga: Transformasi Digital: Dari Manusia Indonesia untuk Manusia Indonesia
Empat belas sesi konferensi dengan lebih dari 85 pembicara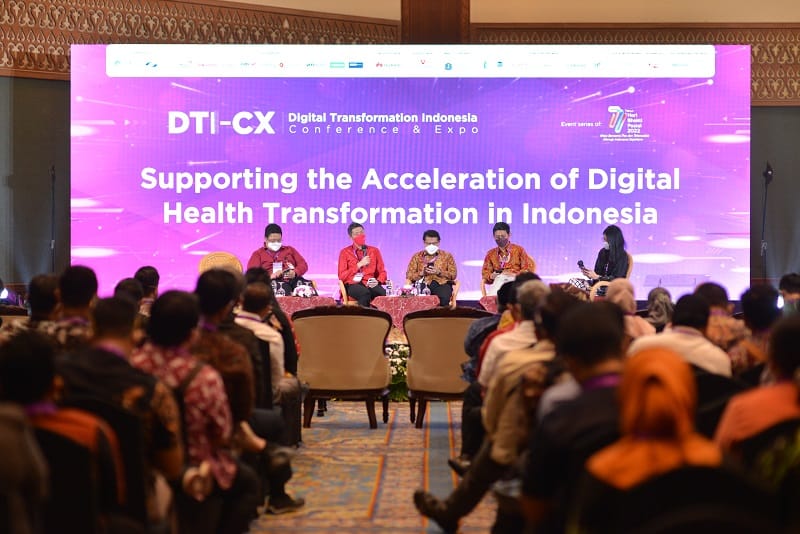 Mengangkat tema "Transforming People, Business, and Society – Menyinergikan Transformasi Pelayanan Publik, Pelaku Bisnis, dan Masyarakat", rangkaian acara DTI-CX berfokus dalam percepatan digital di sektor layanan pemerintah, jasa keuangan, telekomunikasi, kesehatan, manufaktur, utilitas dan infrastruktur.
Expertise perusahaan penyedia solusi teknologi yang hadir pun berasal dari berbagai bidang, yaitu cyber security, Artificial Intelligence (AI), enterprise solutions, system integrators, talent & training, hingga cloud & data management.
"Kami menghadirkan 14 sesi konferensi dengan lebih dari 85 pembicara serta lebih dari 30 peserta pameran yang berperan aktif dari berbagai sektor industri digital," terang Toerangga.
Medium kolaborasi dan sinergi menuju era digital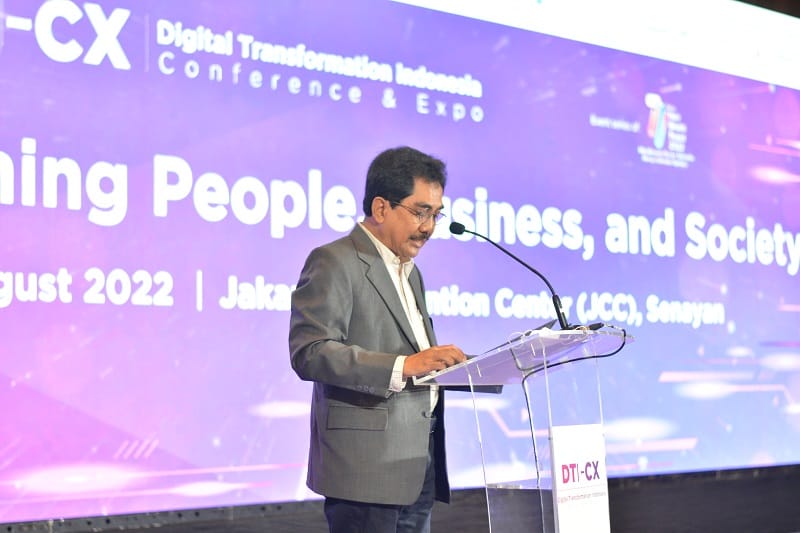 Hadirnya DTI-CX juga melengkapi capaian digital yang telah diraih oleh Indonesia, baik di bidang infrastruktur digital, digitalisasi pemerintah, ekonomi digital, dan masyarakat digital. 
Dalam pidato pembukaannya, Plate menuliskan bahwa data dari Asosiasi Penyelenggara Jasa Internet Indonesia (APJII) menunjukkan tingkat penetrasi internet terhadap jumlah penduduk di Indonesia mencapai 77,02%. Itu berarti, pembangunan infrastruktur digital terasa semakin merata.
Sementara di aspek ekonomi digital, sekitar 19 juta UMKM saat ini telah tergabung dalam berbagai platform digital. Sebagai tulang punggung perekonomian di Indonesia karena telah menyumbangkan 61.07% PDB pada tahun 2021, ini merupakan capaian yang positif.
Oleh sebab itu, Kementerian Kominfo sangat mendukung dan menyambut baik acara DTI-CX sebagai salah satu program akselerasi transformasi digital.
"Saya menyambut baik diselenggarakannya acara Digital Transformation Indonesia Conference and Exhibition ini. Saya berharap acara ini bisa menjadi medium kolaborasi dan sinergi demi membawa Indonesia untuk evolve menuju era digital, demi bersama-sama mewujudkan Indonesia Terkoneksi: Makin Digital, Makin Maju!," tulis Plate dalam pidato pembukaannya.
Baca Juga: Ragam Dukungan APTIKNAS dalam Mengawal Transformasi Digital di Indonesia
Diselenggarakan oleh PT Adhouse Clarion Events (PT ACE) bersama dengan Kominfo, MASTEL (Masyarakat Telematika Indonesia), dan APJII (Asosiasi Penyelenggara Jasa Internet Indonesia), DTI-CX juga bisa berjalan dengan baik berkat dukungan para sponsor, yaitu Telkom Indonesia, Telkomsel, EDGE DC, Indonet, OutSystems, VMware, Veeam, Elitery, Kayreach System.